Presented by Mohawk
Quesoff is honored to benefit the Central Texas Food Bank - a $3 donation will be required to attend the event and 100% of those proceeds will go to the CTFB.Bags of chips will be available for $5. This event is not BYOC. But it is all ages.
This year's teams include past winners Cheesus, Dai Due, Better Half and Kesos Tacos; along with a whole slew of local eateries and businesses like Micklethewait Craft Meats, Uchiko, Central Standard, Scholz Garten, Pink Avocado Catering, Luvit BBQ, Republic Diner, Siete Foods, Posse East, Trudy's, Red's Porch, JuiceLand, Sala and Betty, Credo Foods, Jamie's Salsa, Eldorado Cafe, Taco Baby, Austin Daily Press, Austin's Pizza, Guero's, Maudie's as well as 'home teams' such as Voodoo Magic, Club Indigo, Formaggi-hoes, Downtown Cheesy Brown, It's All Gouda and more!
Our esteemed panel of judges for 2019 is Andrew Knowlton, Editor at Large, Bon Appétit; Callie Speer - Executive Chef & Owner, Holy Roller; Fermin Nunez - Executive Chef, Suerte; Kendall Antonelli - Co-Owner & Founder, Antonelli's Cheese Shop; Matthew Odam, Restaurant Critic, Austin American-Statesman; and Michael Foltasek - Executive Chef & Owner, Olamaie.
Quesoff would like to thank its partners Lone Star Beer, Hot Luck, Rambler Sparkling Water and #lunchwithadi.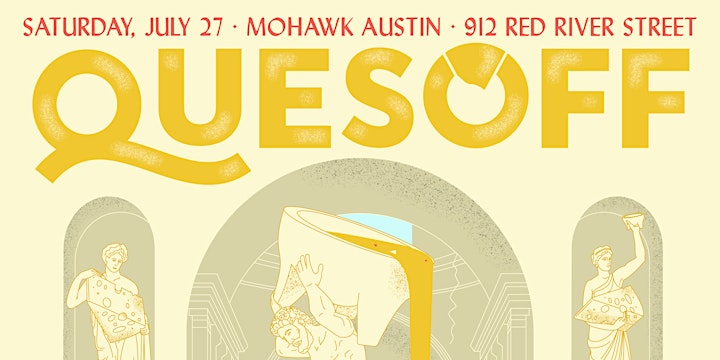 Venue Information:
Mohawk
912 Red River Street
Austin, TX, 78701